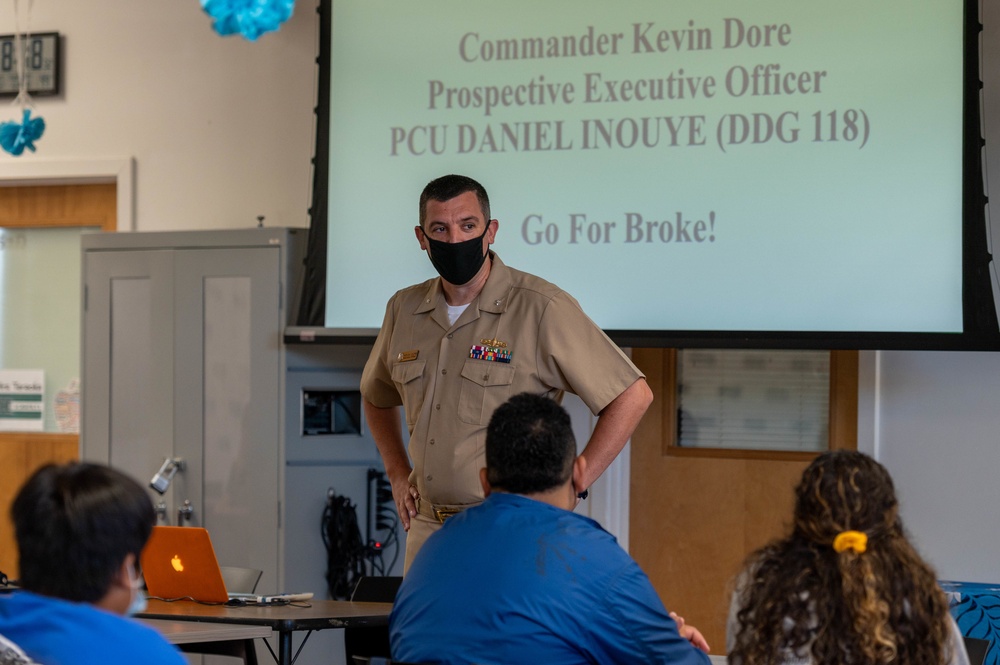 Prior to the future USS Daniel Inouye's (DDG 118) Hawaii arrival later this year, Cmdr. Kevin Dore, the ship's prospective executive officer, visited the Aliamanu Middle School (AMS) in Honolulu.
During the visit, Dore spoke about his career, different aspects of life in the Navy, and the upcoming Joint Base Pearl Harbor-Hickam homeport arrival of the ship named for Daniel K. Inouye, a longtime U.S. senator from Hawaii and a true American hero. "I loved speaking with the middle-school students," said Dore. "It was a genuine pleasure to answer their questions and give them a better understanding of what the Navy does. Their genuine curiosity and interest made for a great conversation!"
During the presentation, students were given the opportunity to ask questions about a variety of topics. Many of the students have parents who serve in the Navy or other branches of the military.
"The class that participated with Cmdr. Dore's visit is a new elective class called Panther Academy," said Cherie Teraoka, the curriculum coordinator at AMS. "This unique elective class has been designed for our students to develop and become confident leaders. It is funny that I have many military students, but many of them said that they did not know the technical work their parent(s) may be involved with if they spend time on a ship."
Dore's visit to the school was not the first engagement between the school and the ship. The entire student body was invited to write letters to the Daniel Inouye crew and welcome them to Hawaii.
"Our school saw this as an amazing way to connect with a new Navy ship that will be based in Pearl Harbor," said Teraoka. "We understood the impact that this new ship will have on our community, so we felt it would be a wonderful way to introduce our students to the history behind this warship named after one of Hawaii's own senators and heroes."
Teraoka said that this correspondence has given students an opportunity to share more about Senator Inouye's legacy and has the students excited for the ship's arrival. She said that Dore's visit deepened the connection with the ship and helped them put a face to it.
"Cmdr. Dore allowed my students to have a voice and ask the questions that were on their mind," said Teraoka. "They have gained a new perspective and appreciation due to this experience."
Visits like the one to AMS help cement relationships between the Navy and the communities where they reside. They also help increase awareness of what Sailors do every day to help serve the U.S. and other allies.
"This visit was about the arrival in Pearl Harbor of the future USS Daniel Inouye and appreciating the legacy of Senator Inouye," said Dore. Hopefully, my time gave the students a view of what life is like at sea aboard a Navy ship and some of the exciting things we do. The students asked a wide range of questions and I loved being able to share my experiences with them."
The future USS Daniel Inouye (DDG 118) departed General Dynamics Bath Iron Works October 4, and it is en route to its homeport in Pearl Harbor. Inouye is scheduled to be commissioned on December 8, one day after the 80th Anniversary of Pearl Harbor Remembrance Commemoration.